Wondering what to read next? The answer is in the stars!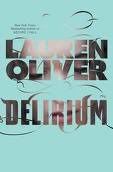 Aquarius
Jan 20 - Feb 18
: You're feeling extra emotional these days. Take a deep breath and keep your cool, but trust your feelings. Read
Delirium
by
Lauren Oliver
, and see what happens to a society where people have been "cured" of all strong emotions, even love.
Pisces
Feb 19 - Mar 20
: You may run into a sticky situation soon, but your perceptiveness will keep things going smoothly. Read
The Extraordinary Secrets of April, May & June
by
Robin Benway
, about a group of sisters whose extra-special perceptions save the day.
Aries
Mar 21 - April 19
: Stop worrying about what you're going to do with your life -- your hidden talents will take you to surprising places. Read
Rot & Ruin
by
Jonathan Maberry
, about a boy who finds his true calling as a zombie killer.
Taurus
April 20 - May 20
: Strike up a conversation with someone you've never talked with before. You may make a new friend and learn something about yourself, too. Read
Sellout
by
Ebony Joy Wilkins
and see how Natasha's life changes when she befriends girls at a crisis center.
Gemini
May 21 - Jun 21:
A lot of pressure and expectations are piled on you right now, but stay calm and have faith in your abilities. Read
Hero
by
Mike Lupica
and meet Zach, a remarkable teenager who, like you, has more power than he realizes.
Cancer
Jun 22 - Jul 22
: Perserverance is what you need to focus on now -- don't let anything distract you from your goals. Read
Teenie
by Christopher Grant, and see how Teenie keeps it together while dealing with the drama of her BFF's online crush and her own dangerous relationship.
Leo
July 21 - Aug 22
: A new person is coming into your life soon, bringing exciting changes and opportunities. read
13 to Life
by
Shannon Delany
, where a mysterious stranger with a dangerous secret changes Jessie's life forever.
Virgo
Aug 23 - Sep 22
: You hate to see your friends upset and are always trying to keep them from getting hurt, but maybe you're protecting them too much. Read
Bruiser
by
Neal Shusterman
, about a boy who takes on the pain of the people he loves.
Libra
Sep 23 - Oct 22
: Someone is underestimating you, but you are about to surprise them with an impressive accomplishment. Read
Extraordinary
by
Nancy Werlin
and see if Phoebe has also been misunderstood - or is she really special enough to break an ancient curse and save her life?
Scorpio
Oct 23 - Nov 21
: You have two choices facing you right now: stay silent and do nothing, or speak out and right a wrong. Read
The Mockingbirds
by
Daisy Whitney
, and find out how Alex finds the courage to stand up for herself.
Sagittarius
Nov 22 - Dec 2
1: Right now, you need to be as clear as you can, even when you think your intentions are obvious. Read
Dash & Lily's Book of Dares
by
Rachel Cohn
and
David Levithan
, in which two teenagers get to know each other by trading cryptic clues and challenges in a notebook they take turns hiding around NYC.
Capricorn
Dec 22 - Jan 19
: There is high drama surrounding you right now, so try to focus on your own needs and stay calm in the midst of chaos. Read
Maxine Banks is Getting Married
by Lori Aurelia Williams -
all the drama
in Maxine's life will prepare you for dealing with your own!