UPDATED WITH NEW TITLES (AT THE TOP)!! ALSO, CHECK OUT THE NEW SEQUELS TO MATCHED AND THE MAZE RUNNER.
Hungry for Dystopias?
If the
The Hunger Games
left you hungry for more thrilling, world-gone-bad tales
, we've got great news! Suzanne Collins' trilogy has become so
incredibly popular that authors and publishers are cranking out tons of great dystopian and post-apocalyptic books for teens. Here's a bunch we think you should check out next.
(Click on titles to reserve them at a CCPL branch near you.)
Legend
By
Marie Lu
A future America is at war. Born into an elite family, June is being groomed for the Republic's highest military circles. Born into the slums, Day is the country's most wanted criminal. They have no reason to cross paths -- until June's brother, Metias, is murdered and Day becomes the prime suspect. But is Day really to blame, or was he set up to cover a darker secret?
Unison Spark
By
Andy Marino
Everyone is obsessed with Unison, the social network that knows you better than you know yourself. But Mistletoe lives in the sub-canopy zone amid poverty and can only dream of logging in. When she meets Ambrose Truax, heir to the Unison empire, they begin a frightening journey into the uncharted territory of the Unison 3.0 upgrade.
Possession
By
Elana Johnson
Vi knows the rule: Girls don't walk with boys, and they never even
think
about kissing them. But no one makes Vi want to break the rules more than Zenn…and since the Thinkers have chosen him as Vi's future match, how much trouble can one kiss cause?
The Limit
By
Kristen Landon
In a world eerily similar to our own, the government imposes debt limits on families. When 13-year-old Matt's family unexpectedly surpasses their limit, he's whisked away to a workhouse where far more serious dangers exist than anyone on the outside realizes.
The Eleventh Plague
By
Jeff Hirsch
In the aftermath of war, America's landscape has been ravaged and two-thirds of the population left dead from a vicious strain of influenza. Fiftteen-year-old Stephen and his family are among the few who survived and became salvagers. But when his father decides to risk everything to save the lives of two strangers, Stephen's life is turned upside down.
Tankborn
By
Karen Sandler
Kayla and Mishalla are two genetically engineered, non-human slaves (GENs). In their strict caste system, GENs are at the bottom rung of society. But these best friends still fall in love with higher-status boys, discover deep secrets about the creation of GENs, and find out what it means to be human.
Variant
By
Robison E. Wells
After years in foster homes, 17-year-old Benson Fisher applies to New Mexico's Maxfield Academy with hopes of securing a brighter future. Instead, he finds that the school is a prison -- and no one is what he or she seems.
Those That Wake
By
Jesse Karp
People walk the streets of New York City with heads down, withdrawn into the cold comfort of technology. Teens Mal and Laura have never met. Seemingly, they never will. But on the day Mal learns his brother has disappeared, Laura's parents have forgotten her. Something has wiped the teens from the memories of every person they have ever known.
Scored
By
Lauren McLaughlin
In the future, all teens are given a score that determines their future potential. This score can get them into colleges, grant scholarships -- or destroy all hope for the above. Imani's high score is brought down when her best friend's score plummets. Where do you draw the line between doing what feels morally right and what can mean your future?
Divergent
In a future Chicago, 16-year-old Beatrice must join one of five factions -- a choice that will determine the rest of her life. Will she remain with among her family, the selfless? Join the daring Dauntless? Seek wisdom with the Erudite? But when Beatrice discovers she doesn't fit into fit into any one group, it could cost her life. If you loved
The Hunger Games
, this book is for you!
Blood Red Road
By
Moira Young
In a distant future, Saba lives in Silverlake, a dried-up wasteland ravaged by constant sandstorms where she and her family to scavenge from landfills. That's fine by Saba, as long as her beloved twin brother, Lugh, is around. But when a monster sandstorm arrives bearing four cloaked horsemen, Lugh is captured and Saba must set out into the ugly real world.
Enclave
By
Ann Aguirre
In a post-apocalyptic future, 15-year-old Deuce, a loyal Huntress, brings back meat while avoiding the Freaks outside her enclave. But when she is partnered with the mysterious outsider, Fade, she begins to see that the strict ways of the elders may be wrong -- and dangerous.
The Enemy
By
Charlie Higson
In this dystopian thriller set in London, everyone over 16 is dead or diseased, and youngsters are in constant danger of being eaten by boil-infested adults who roam the streets like zombies. One group of kids sets out for Buckingham Palace where a young messenger has promised they'll find food, medicine, and a haven. But will they survive the journey?
Matched
By
Ally Condie
Cassia lives in a Society that matches boys and girls to marry. Lucky her! She's matched with Xander, the cute and fun boy that's already her good friend. But when Cassia sees a glimpse of another boy she was almost matched with, she wonders if she loves him more. First in a series to come.
Sequel: Crossed
Scientists can eradicate love, and the government demands that all citizens be "cured" at 18. Lena Haloway has always looked forward to the start of these peaceful, if dull, days. Then, she meets Alex, a mysterious guy who makes her heart flutter. And, soon, she's questioning her government's intentions. First in a series to come.
Thomas wakes up in a dark box and remembers nothing but his name. He winds up in the Glade with other teenage boys in the same predicament. They have no clue why they've been sent there -- or how to escape.
Katsa has been able to kill with her bare hands since she was 8 — she's a Graceling, one of the rare people in her land born with an extreme skill. Graced as she is with killing, she is forced to work as the king's thug. When she first meets Prince Po, who's Graced with combat skills, Katsa has no hint of how her life is about to change.
Uglies
Everybody gets to be supermodel gorgeous. What could be wrong with that? Tally is about to turn 16, and she can't wait to finally be a Pretty. But when her new friend Shay runs away, Tally learns about a whole new side of the Pretty world – and it isn't very pretty.
Pursued by power-hungry Prentiss and mad minister Aaron, young Todd and Viola set out across New World searching for answers about their colony's true past and seeking a way to warn the ship bringing hopeful settlers from Old World.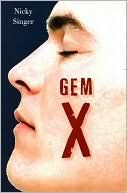 When America is converted into an oppressive police state after a major terrorist attack, Marcus decides to use his expertise in computer hacking to set things right.
Remember to click on any title to reserve it at your nearest CCPL branch!