You Review:
Welcome to the place where teens review books just for teens. Email
teenunderground@ccpl.org
if you want to review, too! Click on the title of the book below to put the book on hold at your favorite
CCPL branch
, and be sure to comment at the end.
Thanks to Sam L. for her review!
Who Done It,
Edited by Jon Scieszka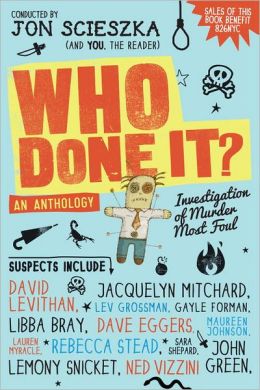 Who Done It? by Jon Scieszka is a collection of fictional alibis for the murder of an editor written by a number of authors. The alibis provide a picture of a horrible editor that in some way abused all of his writers. The assorted alibis create an interesting storyline that will elicit laughs throughout the entire book. Having stories by so many authors, the reader is given an insight into the chaotic minds of writers; a scary, but highly entertaining place. The only low points, in my opinion, would be that the stories had become a bit repetitive by the end, and the ending was slightly disappointing. I won't give it away, though; you'll have to read it to find out "who done it?"
--Sam L.
What do others think? Praise for Who Done It? from amazon.com:
"How did you get my phone number? Stop calling me or I'm getting the police involved."
—Maureen Johnson, author of The Name of the Star and The Last Little Blue Envelope
"Wah-huh?"
—Gayle Forman, author of If I Stay and Where I Went
"Who are you? Why are you writing down everything I'm saying? What book? What are you talking about?"
—Lemony Snicket, author of A Series of Unfortunate Events and Who Could That Be at This Hour?
"Papery. And rectilinear."
—Barry Lyga, author of I Hunt Killers
"Of all the books I've ever read, this was definitely the most recent."
—Jennifer Smith, author of The Statistical Probability of Love at First Sight
"If you already know who done it, this is not the book for you."
—Mo Willems, author of Don't Let the Pigeon Drive the Bus
"Deliciously cheesy."
—Jo Knowles, author of See You At Harry's
"Exceptionally rectangular."
—Kiersten White, author of Paranormalcy
"My God. It's full of words."
—Kieran Scott, author of the He's So/She's So trilogy
"Not enough pictures."
—Ricardo Cortés, co-author of Go the F--k to Sleep
"Cures everything from sleeplessness to insomnia."
—Natalie Standiford, author of The Secret Tree
"Wicked awesome."
—Lisa Brown, How to Be
"Who is Jon Scieszka?"
—Casey Scieszka, co-author of To Timbuktu
"I'll get back to you with a blurb as soon as I have some time."

–Leslie Margolis, author of Everybody Bugs Out
"This book is full of slanders, falsehoods, and outrageous defamations of character. In other words, it was perfect!"
—Adam Gidwitz, author of A Tale Dark and Grimm
"Without a doubt, one of the top 10,000 books of the year."
—
Robin Wasserman, author of The Book of Blood and Shadow
"Stays crunchy in milk."
—Gordon Korman, author of Swindle
"It makes an excellent step so I can reach all my shoes."
—Kate Brian, author of the Private series