Hello, readers!
We've got loads of new books ready for you to check out. Click on the title to go to our catalog, where you can reserve your copy today!
Happy reading,
--the YA Staff
Code Name Verity
by Elizabeth Wein
In 1943, a British fighter plane crashes in Nazi-occupied France and the survivor tells a tale of friendship, war, espionage, and great courage as she relates what she must to survive while keeping secret all that she can.
The Innocents
by Lili Peloquin
Sisters Alice and Charlie, who have a love-hate relationship, experience a new test to their bond when they relocate to the secretive town of Serenity Point, where they fight to belong and vie for the attentions of an alluring young man.
How To Lead A Life Of Crime
by Kirsten Miller
A teenaged pickpocket, haunted by the ghost of his brother killed by his father, is recruited for Mandel Academy, a school for criminals where only one student survives each semester.
Modernized Lois Duncan Titles:
Summer of Fear
,
Stranger With My Face
,
Don't Look Behind You
,
Down a Dark Hall
(and more!)
Ever wonder what Lois Duncan's classic horror/thriller/paranormal/mystery titles would be like if the characters were modern teens (think cell phones and the internet)? Well look no further!
Blue Bloods: The Graphic Novel
by Melissa de la Cruz, Adapted by Robert Venditti, Art by Alina Urusov
Select teenagers from some of New York City's wealthiest and most socially prominent families learn a startling secret about their bloodlines.
Love and Other Perishable Items
by Laura Buzo
A fifteen-year-old Australian girl gets her first job and first crush on her unattainable university-aged co-worker, as both search for meaning in their lives.
Middleworld
by J & P Voelkel
When his archaeologist parents go missing in Central America, fourteen-year-old Max embarks on a wild adventure through the Mayan underworld in search of the legendary Jaguar Stones, which enabled ancient Mayan kings to wield the powers of living gods. Includes cast of characters, glossary, facts about the Maya cosmos and calendar, and a recipe for chicken tamales.
Cracked
by K.M. Walton
When Bull Mastrick and Victor Konig wind up in the same psychiatric ward at age sixteen, each recalls and relates in group therapy the bullying relationship they have had since kindergarten, but also facts about themselves and their families that reveal they have much in common.
Living Violet
by Jaime Reed
Samara is intrigued by her flirtatious co-worker, Caleb, but his secrets draw Samara into a world that places her loved ones in danger, forcing her to take a risk that will change her life forever.
Bittersweet
by Sarah Ockler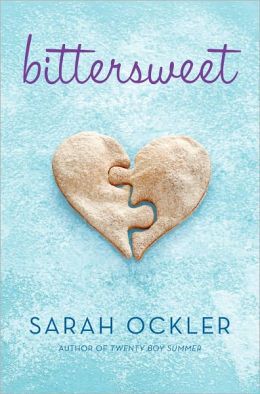 Hudson Avery gave up a promising competitive ice skating career after her parents divorced. Now she spends her time baking cupcakes and helping out in her mother's upstate New York diner, but when she gets a chance at a scholarship and starts coaching the boys' hockey team, she realizes that she is not through with ice skating after all.
The Other Normals
by Ned Vizzini
A gaming-obsessed boy is sent to camp to become a man--but ends up on a fantastical (and funny) journey that will change his life forever.
The
Probability of Miracles
by Wendy Wunder
Having spent several years in and out of hospitals for a life-threatening illness, pragmatic sixteen-year-old Cam is relocated by her miracle-seeking mother to a town in Maine known for its mystical healing qualities.
Ultraviolet
by R.J. Anderson
Almost seventeen-year-old Alison, who has synesthesia, finds herself in a psychiatric facility accused of killing a classmate whose body cannot be found.
My Life in Black and White
by Natasha Friend
When beautiful high school student Lexi is involved
in
an automobile accident that leaves her disfigured, she must learn who she really is beyond a pretty face,
and
she must also learn to forgive.
Sent to do volunteer work at the Whitechapel Hospital in the east end of London in 1888, seventeen-year-old Abbie discovers the identity of Jack the
Ripper.
Everyone thinks seventeen-year-old Jane has attempted suicide more than once, but Jane knows the truth: her shadow is trying to kill her
After waking up on an operating table with no memory of how she got there, Noa must team up with computer hacker Peter to stop a corrupt corporation with a deadly secret