Welcome to That Reminds Me of a Book, our regular feature where we link current events and pop-culture happenings with YA books.
By now you may have heard the story of
Jaycee Dugard
, the California girl who was abducted at the age of 11 and spent the next 18 years living in tents and sheds, imprisoned in the backyard of the man who kidnapped her. It's a heartbreaking and horrific story; much like Elizabeth Scott's
Living Dead Girl.
LDG is a work of fiction -- but as we've seen in the news with Jaycee Dugard, and
Elizabeth Smart
, unfortunately not that far removed from reality. It's the story of Alice, who was kidnapped at age 10 by a disturbed and totally creepy man named Ray; the horror of the five years she spent with him, and what happens when he starts looking for a new little girl to abduct. Scott doesn't sugarcoat the unsettling facts of Alice's life with Ray, but manages to convey the abuse she endures without resorting to graphic descriptions. The book's inside flap says this is a story "you have never heard and will never forget," and while you may have heard similar stories of kidnapped children in the headlines, you've never seen how it looks from the eyes of the abducted child, and once you have, you truly will never forget it.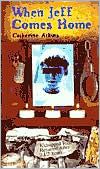 Of course, it's not only girls who get abducted. Last year the story of
Shawn Hornbeck
was in the news.
When Jeff Comes Home
by Catherine Atkins explores an eerily similar story, about a boy named Jeff who was abducted at age 13 (also by a man named Ray - seriously, what's up with all these creepy kidnappers being named Ray?) and held prisoner for 3 years. The book looks at Jeff's life after he returns home, and examines the difficulties he faces as he tries to reclaim his life.
Both of these books are on the dark and disturbing side, and perhaps not for the faint-of-heart. But both are utterly gripping and compelling stories that offer insight into the minds of abducted children - and provide chilling reminders to young people always to be mindful of their surroundings and skeptical of strangers.